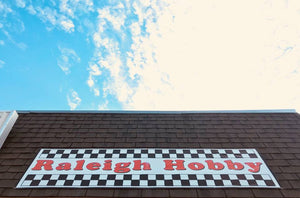 Raleigh Hobby and RC
Thank you for visiting Raleigh Hobby and RC!  We are a family owned and operated hobby shop that has served Raleigh and the surrounding areas for over 10 years. We welcome everyone of all ages and most importantly, we thank you for choosing Raleigh Hobby and RC as your shop!
For immediate item availability please call our store! 
919-772-1211
or email us at raleighhobby@gmail.com
Or feel free to stop by, we're open:
Monday- Saturday 8am-5pm and closed on Sunday.
Thank you for shopping with us!